---
---

–Written and narrated by Peter Bejger.
Perhaps some listeners fall into the same serendipitous mood I do when reading a book, or any collection of texts. Perhaps you start from the end. Or the middle. After all, every story has a beginning, middle, and end. But it doesn't have to be told in that manner.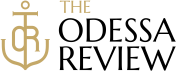 A very interesting new issue of the Odessa Review prompts this reflection. The October/November issue focuses on one vital theme—relations between Ukrainians and Jews. Past, present, and future.
This very special issue—supported by the Ukrainian Jewish Encounter—recognizes an important truth. As Vladislav Davidzon, editor-in-chief of the Odessa Review notes, no matter how complicated or difficult the subject of Ukrainian-Jewish relations has been, the story is far from over.
An impressive array of contributors presents multiple views on the complexities and challenges of the Ukrainian-Jewish relationship.
Wolf Moskovich, Professor Emeritus at Hebrew University of Jerusalem, reviews the impact of two towering figures on Ukrainian-Jewish relations in the early decades of the 20th century. The Ukrainian writer Ivan Franko and the Zionist leader Vladimir Jabotinsky both attempted to build bridges between the two groups. Professor Moskovich shows how they helped to sow seeds of cooperation on what he calls "distinctly infertile soil."
A profile of the Ukrainian-born Israeli Anna Zharova, one of the founders of "Israeli Friends of Ukraine," shows how cooperation has blossomed in a contemporary context. She outlines how both Israel and Ukraine can work with each other and learn from each other, especially in the humanitarian and cultural fields.
The prolific author, historian, and Yale University professor Timothy Snyder is also represented in this special edition. His contribution underlines the fact that Ukrainian-Jewish relations were often subject to the malign influence of third parties. In his speech on Germany's historical responsibility to Ukraine, delivered to the German Bundestag in June 2017, Snyder points to the primacy of Ukraine in sparking the Second World War. He notes, "Ukraine is the cause of the war. Had Hitler not had the colonial idea to fight a war in Eastern Europe to control Ukraine…had there not been that plan, there could not have been a Holocaust."
In another take on third party influence on Jewish-Ukrainian issues, the British scholar and journalist Bohdan Nahaylo traces how Ukrainian and Jewish political prisoners forged solidarity in Soviet penal institutions. Ironically, it was the Gulag that provided an unlikely forum for liberal Ukrainian and Jewish dissenters to meet and bond.
Ukrainian journalist Vitaly Portnikov makes the astute observation that "Ukraine remained a colony of Russia not because it purchased Russian gas or because its fourth president was a Russian puppet, but because the Soviet mentality of Ukrainians correlated to the Soviet mentality of Russians, who were tragically incapable of adapting to modernity."
The collapse of this mentality after the Revolution of Dignity on the Maidan in Kyiv marks the end of a multi-faceted occupation Ukraine has endured since the seventeenth century.
The consequences of all this in Portnikov's view are that "Jews have seen that Ukraine exists as a political nation, and Ukrainians have seen that Jews could be a part of this nation." For Portnikov this has implications for the future evolution not only for Ukrainian Jews, but for Russian Jews as well.
There is so much more in this issue to provoke thought. Professor Olga Gershenson of the University of Massachusetts-Amherst analyzes Soviet film treatment of the Holocaust as well as the future of Ukrainian film in dealing with a morally complex past.
Boris Khersonsky, Ukraine's best known Russian-language poet and member of Odessa's Jewish community, addresses the debates about the status of Ukrainian Jews within Ukrainian culture after Maidan.
Past, present, and future. There are still many stories of the Ukrainian-Jewish encounter to be told.
As Odessa Review editor Davidzon points out, "The book has not closed on Ukrainian-Jewish relations. If anything, the people of Ukraine are writing the next chapter."
For more information on this special issue of the Odessa Review, log on to www.odessareview.com.
This has been Ukrainian Jewish Heritage on Nash Holos Ukrainian Roots Radio. From San Francisco, I'm Peter Bejger. Until next time, shalom!

http://nashholos.infoukes.com/wp-content/uploads/UJH/UJH-2017-1124-OdessaReview.mp3