In this edition of Ukrainian Jewish Heritage, we will be discussing Ron Vossler's memoir Hitler's Basement.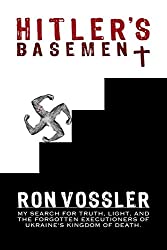 Much has been written about Nazi concentration camps, but little has been written about the Nazi massacres of Jews on Ukrainian soil, and the peasants who witnessed and participated in these horrific events. In Hitler's Basement, Ron Vossler reveals the little known story of the Nazi murder of thousands of Jews in the region of Transnistria, a region of Ukraine currently bordered by eastern Moldova. Vossler's relatives came from this area and were known as the Volksdeutsche, a German minority living outside Germany. His search for the truth about the events of these massacres, and the role of the Volksdeutsche is the core of this book. It is a story which reveals, "Rivers of red, a kingdom of death."
Ron Vossler was a literature professor in North Dakota when he became interested in the murders of Jews in the Transnistria area. His relatives came from this area of Ukraine.  As a young person, he knew very little about these events because no one ever talked about them in North Dakota.  However, the Volksdeutsche culture and history were very important in the community. As a child, he happily played World War II wargames. "And so it was left to us, the settlers' grandchildren, to unconsciously work out in our play the unspoken contradictions of our confusing history." (p. 16) His group of friends nicknamed an older, eccentric man in the community, Hitler, and used his house as a base camp for their "wartime adventures." Was he really a Nazi?
After a visit to his elderly Volksdeutsche relatives in California, Vossler becomes aware of a very close family connection to a famous Nazi – George Leibbrant.  He was a scholar and writer about German genealogy in the United States, but he was also, "One of fifteen Nazis at the infamous Wannasee Conference, which formalized the murder of the Jews (the first ugly tentacle of the Holocaust rising from the murky depths of Volksdeutsche history)." (p. 4) At first, Vossler does not want to face his community's connections to the Holocaust.  However, he soon becomes obsessed with the question, "Did the Volksdeutsche settlers of Transnistria participate in murdering the Jews during the Nazi occupation in WW II?"
His obsession takes him on a trip to Ukraine where he researches the "kingdom of death" in Transnistria from 1941-1944.  At first, he is shocked by the number of Jews transported from Odessa to small villages in the area to be massacred.  He assumes these murders were committed by the Nazi death squads named the Einsatzgruppen. However, he comes to realize that the Volksdeutsche villagers were at times observers of the killings, and in some cases, they actively participated in them. He returns home to teach, but cannot leave the idea alone.  He receives a Fulbright Fellowship, which required him to teach at the National University in Nikolaev while researching his project, "Ukraine's Labrinth of Memory, and the Role of the Rastadt Volksdeutsche Police in the Transnistrian Holocaust." (p. 87) His research reveals not only extensive evidence of Volksdeutsche involvement in the Jewish massacres, but also, the involvement of Vossler's family members and the man in his hometown he had nicknamed Hitler.
This very personal memoir is an important addition to the historical record about the open- air Holocaust of the Jews by the Nazi rulers in Ukraine from 1941 to 1944.  Father Patrick Desbois also wrote about these events in The Holocaust by Bullets and In Broad Daylight.  Vossler concentrates on the Volksdeutsche involvement in these massacres.  The details are very graphic. There are descriptions of ovens, bone fragments, rapes, and massive shootings. Bullet casings, archival materials, and witness accounts all provided evidence of events that have long been hidden from world view. There are several stories of Volksdeutsche villagers sheltering Jews and saving them.  However, there are also stories of the participation of young Volksdeutsche men in the mass murders.
Vossler is a Fulbright scholar whose strength is researching historical events.  He gives readers a lengthy description of Volksdeutsche history – how they arrived in Transnistria, how they survived the Holodomor and Stalin's purges, how they viewed the Jewish massacres in their villages, and how they participated in these massacres. His personal feelings are interspersed with his experiences. "I don't quite believe it somehow, because it contradicts everything I know about the fundamental decency and religious nature of the Volksdeutsche." (p. 98) Hitler's Basement is a heart-breaking but intensely compelling book.
Ron Vossler is a Fulbright scholar, freelance writer, and teacher of writing at the University of North Dakota. He has written books, documentary films, articles, and poems. His works have appeared in numerous journals, websites, and on North Dakota Public Radio.  His documentary film, We'll Meet Again in Heaven, premiered on Prairie Public Television in July 2007. Vossler is a resident of East Grand Forks, Minnesota.
Hitler's Basement is available at Chapters/Indigo and Amazon.
I'm Myra Junyk in Toronto, for Nash Holos Ukrainian Roots Radio.  Until next time, Shalom!
–Reviewed by Myra Junyk