Wretched Land tells the epic story of Dmytro and Khrystina Verbitsky as they live through the horrors of early 20th century Ukraine. Their love for the land and their family of ten children keeps them together through wars, famine, invasions, and collectivization. Readers will experience, "An unforgettable journey into the heart and soul of a land and people built on pain, passion, and hope for a better future." (book jacket)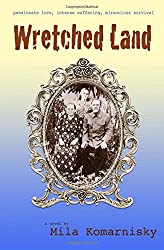 As the novel begins, it is 1907, and twenty-year old Dmytro finds out that his impoverished aristocrat father has committed suicide. His father owned an estate in Gorodne in the Kharkiv province of eastern Ukraine, but he lost everything because of his gambling and drinking.  Dmytro is forced to sell-off all his assets, and is left with nothing.  "The estate was not only a means of making a living; it was his pride and joy. What would become of him now? How would he survive such a disgrace? How could his father do this to him?" (p. 12) Before this tragedy, he was in love with Khrystina, the daughter of a wealthy peasant.  He still wants to marry her, but has nothing to offer.  Her father rejects Dmytro's proposal, but Khrystina marries him against her father's wishes, and she is promptly disowned.
The two young people start to make life together. Dmytro finds work as the manager of the estate farm, and the young couple lives in the old gardener's cottage. They start a family with the birth of their daughter Olga just as World War I breaks out. In August 1914, the tsarist government starts to recruit villagers to fight against their Austrian enemies. Both Dmytro and fellow villager, Fedir Zakharkiv, are sent to the battlefield.  Fedir is badly wounded, bitter, and converted to communism.  Dmytro has made contact with friends who are working on Ukraine's independence.  He becomes a member of the Sich Riflemen. "In his heart, Dmytro knew he was a true Ukrainian." (p.77) Both men eventually return to their village. In the meantime, Khrystina has struggled to keep her family alive as the Bolsheviks rampage through the village. She must leave her home and depend on the generosity of others.  In the midst of the conflict, she is brutally raped by her former suitor Pylyp.
Wretched Land takes the Verbitsky family saga through both World Wars, the Holodomor, Stalin's collectivization, and post-Soviet life in Ukraine.  It is a sweeping tale which illustrates the writer's love and appreciation for Ukrainian history.  This is the writer's first novel, and at times, the narrative tries to encompass too many aspects of Ukraine's history, while still dealing with the realities of life in the Verbitsky saga.  Some of the ten Verbitsky children become vibrant characters in the narrative, while others are mentioned sparingly. The two central characters, Dmytro and Khrystina, however, are shining examples of the strength and courage of ordinary Ukrainians in the face of indescribable horror and tragedy.  They deal with the challenges they face with dignity, love, compassion and resilience.
Readers will learn a great deal about Ukrainian culture and history in Wretched Land. There are descriptions of Ukrainian traditions at Easter and Christmas, as well as details about animal husbandry, betrothal, and wedding ceremonies. Dmytro finds himself embroiled in major historical events. He is a member of the Sich Riflemen and participates in the independence movement.  Their children become part of the Ukrainian emigration to Canada.  The poignant visit of their Ukrainian-Canadian relatives at the end of the novel foreshadows a possible sequel.
While Wretched Life is not based on actual individuals, it does mirror the experience of the Eastern Ukrainian population in the early years of the 20th century. It does not shy away from historical controversy.  Khrystina never knows about Dmytro's participation in the independence movement.  She admires Stalin, and is thrilled to receive a Gold Star medal for being a Mother of Heroes for raising 10 children.  The couple even travels to Moscow to meet Stalin and receive the award. "Khrystina could not suppress her excitement. She wanted to see Stalin. Captivated by an upsurge of general, unbridled admiration, she was now a great fan of his." (p. 145) Khrystina's resilience and courage in the face of incredible obstacles shows the strength of her character.  She keeps going no matter what she faces: rape, death, exile, hunger, invasion, and loneliness. It is a book which is not easy to read at times, but it will definitely live in the reader's imagination long after the last page!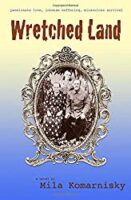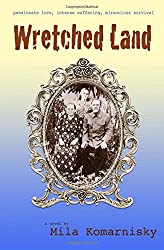 Mila Komarnisky never meant to be a writer. She spent part of her childhood in Eastern Ukraine. After moving to Canada, she earned a Ph.D. in nutrition and metabolism from the University of Alberta, and a Doctor of Veterinary Medicine from the Kharkiv University. After retiring, Mila decided to improve her writing skills by taking a novel writing course at the Winghill Writing School in Ontario. Wretched Land is her first novel, which won the Anna Pidruchney Award for New Writers. She lives in Edmonton, and is working on a sequel to Wretched Land.
Wretched Land is available at Amazon (here) and Barnes and Noble.
–Review written and narrated by Myra Junyk.
---
If you wish to purchase Wretched Land, please our affiliate link. You will be supporting the show and there is no extra cost to you! Дякую! Thank you!