In this edition of Knyzka Corner, we will be discussing Serhii Plokhy's non-fiction thriller, The Man with the Poison Gun – A Cold War Spy Story.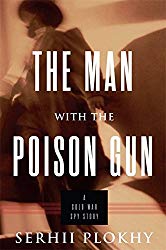 The Man with the Poison Gun, Serhii Plokhy's first non-fiction thriller, focuses on the life of Bogdan Stashinsky, the assassin who killed Stepan Bandera and Lev Rebet. The very first paragraph sets up a shocking comparison between fiction and real life. In the fall of 1961 while, "David Cornwell, a British spy more commonly known as John le Carré, was contemplating the writing of his first bestselling novel, The Spy Who Came in from the Cold, the West German police were [actually] interrogating a Soviet spy." (p. xi)
That spy was Bogdan Stashinsky. His story begins in 1949 in post-war Ukraine when Nikita Khrushchev, then the party boss of Ukraine, decided that he needed to destroy the Ukrainian resistance by killing the leader of the Organization of Ukrainian Nationalists (OUN) – Stepan Bandera. Bandera had spent years in Polish prisons and the German concentration camp of Sachsenhausen. His followers were now headquartered in Munich, the centre of the American occupation zone in Germany.
In early 1950, Bogdan Stashinsky was arrested by the Soviets for a minor offence and given an ultimatum. Co-operate with the Soviets and become a traitor to Ukraine, or face prison time and possible death along with his entire family. Bogdan chose to become an agent of the Soviets. "Stashinsky returned from Lviv to his native village and told his relatives that the secret police were hot on his heels. Everyone agreed that under the circumstances he had no choice but to flee to the forest and join the guerrillas." (p. 23) His initial task involved betraying members of the Ukrainian underground, which led to arrests and assassinations. When Stashinsky's family found out the truth about what he had done, "Stashinsky had nowhere to go. He had saved his family by betraying it. They did not want to have him around anymore. The secret police would become his new home and family." (p. 25)
As an agent of the Soviet secret police, Bogdan would be trained in spycraft and assassination techniques. His weapon was a poison gun which would immediately kill his target with undetectable poisonous fumes. His initial target in Munich was Lev Rebet, a "troublesome" Ukrainian journalist. The KGB described Rebet as "an intellectual leader of the Ukrainian nationalists" who wrote articles inciting Ukrainians to fight against the Soviet occupiers. Stashinsky killed Rebet on October 12, 1957. After this initial success, he was given a more important target, the leader of OUN, Stepan Bandera.
Bandera's assassination was more complex because of his bodyguard, and it involved following the Ukrainian leader for weeks on end. However Stashinsky eventually saw his opportunity when Bandera was alone after a shopping trip, and murdered him on October 15, 1959 in the stairwell of his home. At first, authorities were mystified by Bandera's death calling it a stroke, or a possible suicide. The poison that killed Bandera left no trace so it was not until Stashinsky defected to West Germany that he revealed how Bandera died. In order to stay in the West, Stashinsky had to convince German authorities that the KGB wanted to kill him because of what he knew about the Soviet assassination plots. He was eventually tried for the murders of Rebet and Bandera, and his trial opened up the truth to the world for the very first time.
The Man with the Poison Gun is a very interesting book about post-war Soviet and European politics. Khrushchev's role in the deaths of Rebet and Bandera was shocking to the world community at the time. Today, the attempted assassination of Ukraine's President Victor Yushchenko, and the successful assassinations of journalist Aleksandr Litvinenko in London, Sergei Magnitsky in a Russian prison, and Boris Nemtsov on a bridge in Moscow are brutal reminders that the strategies of the post-war KGB are still alive and well in Russia. Plokhy was able to write his book because of the information he gathered from Stashinsky's trial testimony, as well as recently released historical documents such as the KGB and CIA archives. His extensive notes will be very useful to anyone wanting to know more about post-war Ukrainian resistance.
Plokhy is a historian, not a writer of spy thrillers like John le Carré or Ian Fleming, and he has difficulty describing Bogdan Stashinsky's moral qualms about killing his victims. He tells readers that in his early days as a Soviet agent, Bogdan was "confused," since he had been raised as a Christian. The idea of killing another human being was difficult for him to contemplate. However, Bogdan did proceed to kill both Rebet and Bandera regardless of his confusion. Despite these issues, Plokhy's book is an interesting and revealing exposé of Stashinsky's life as a Soviet agent, and his role in the murders of Rebet and Bandera. Readers will be surprised to learn that Ian Fleming actually modelled part of his novel, The Man with the Golden Gun, on the actions of Bogdan Stashinsky.
Although The Man with the Poison Gun is Serhii Plokhy's first non-fiction thriller, he has written extensively on the history of Ukraine and Eastern Europe. His most recent works include: The Gates of Europe: A History of Ukraine (2015), The Last Empire: The Final Days of the Soviet Union (2015), and The Cossack Myth: History and Nationhood in the Age of Empires (2012).
Plokhy was born in Russia to Ukrainian parents, but grew up and went to school in Ukraine. He received his PhD in history from Kyiv University. He was a professor of history and associate director of the Peter Jacyk Centre for Ukrainian Historical Research at the University of Alberta. He is currently the Mykhailo Hrushevs'kyi Professor of Ukrainian History at Harvard University.
The Man with the Poison Gun is available at Chapters/Indigo and Amazon.
– Reviewed by Myra Junyk