---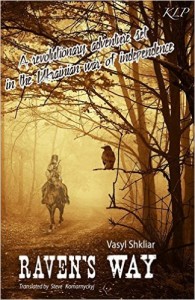 In this edition of Knyzka Corner, we will be discussing Vasyl Shkliar's novel, Raven's Way.
Raven's Way was first published in 2009 in Ukraine with the title Black Raven.  It has recently been translated by Stephen Komarnyckyj and published in English by Kalyna Language Press. It won the Taras Shevchenko Award in 2011, the most important literary prize in Ukraine.  However, Vasyl Shkliar refused to accept this award. and the prize money of $32,000, as a protest against the policies of Victor Yanukovych's government. The introduction to Raven's Way states that Shkliar, "was simply continuing the fight for freedom and democracy started by his grandfather and other young men in the forest so long ago.  This time by hurling words instead of grenades."
The novel begins in 1921 with the insurgency against Russian occupiers in Kholodnyi Yar.  The rebels are fighting under a black flag with the inscription, "A Free Ukraine or Death." In the very first scene, Otaman Veremii is buried in the Hunskyi Forest while a mysterious ancient raven looks on, "observing the strange proceedings of humanity and trying to understand them." (p. 11)  
The events of the novel are told by multiple narrators describing the steadfast resistance of the forest soldiers led by new Otaman Raven against the Russian occupiers of Ukraine.  Their battle rages for several years with impressive victories against the Russians, as well as crushing defeats.  Intertwined into the narrative is the poignant story of Veremii's wife Hannusia, who gives birth to a son after the death of her husband.  She continues to hope that he is alive even when she is tormented by Russians.  Their extreme cruelty is shown when they force her to jump off a cliff with her child.  Miraculously, the child survives and is taken to safety by Raven.  Ultimately, the child becomes a part of the love story involving Raven and his girlfriend Tina.
Shkliar is a skillful writer who weaves in Russian documents about brave Ukrainian resistance fighters into his narrative. There are frequent references to actual historical figures such as Shymon Petliura, Taras Shevchenko, and Stalin. The writer's descriptions are at times brutal and gruesome, but at other times, they are evocative and lyrical.  The comparison to today's political situation in Ukraine is unavoidable.  Readers will definitely be able to compare current news stories about brave Ukrainian soldiers fighting in Eastern Ukraine to the exploits of Raven and his men in the forests of Kholodnyi Yar.
North American readers may find Raven's Way challenging to read at first.  There are dozens of characters with similar sounding names. The narrative structure is complicated by numerous narrators including Raven the warrior and Raven the bird.  There is a useful glossary at the end of the novel; however, it could have been expanded for North American readers to clarify variations in terminology such as the interchangeable use of "Otaman" and "Ataman." However, the power of the narrative will soon win readers over with its exciting storyline and dynamic characterization.
Vasyl Shkliar was born in the small village of Hanzhalivka in central Ukraine in 1951.  This area was the location of the battle between Ukrainian Cossack fighters and Soviet forces in the 1920's.  Shkliar's grandfather was one of these warriors, and Vasyl grew up listening to stories of their exploits told in secret. He attended Yerevan University before working as a journalist.  In 2001, he published his first novel Elemental based on the Chechen crisis. He is now known as the Father of the Ukrainian Best Seller. He lives in Kyiv. Raven's Way is a powerful novel which reminds readers, "All things change, the wheel turns and things lament perpetually and all turns back upon itself." (p. 177)
Raven's Way is available at Chapters/Indigo and Amazon.
Shkliar, Vasyl.
RAVEN'S WAY.
Kalyna Language Press Limited, 2015. 411 p.
ISBN 978-0-9931972-0-8
Reviewed by Myra Junyk
If you click on this link to take you to Amazon, your purchase could generate a (very small) commission for Nash Holos — without any cost to you. Instead, you will get a large multinational corporation to share a bit of its profits and help keep Nash Holos on the air for your listening enjoyment. Thank you for listening, and for your support!
Listen to or download the review: