---
---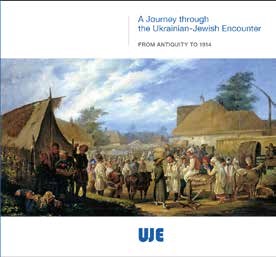 In this edition of Ukrainian Jewish Heritage, we will be discussing A Journey through the Ukrainian-Jewish Encounter: From Antiquity to 1914, curated and written by Alti Rodal, the Co-Director of the Ukrainian-Jewish Encounter.
A Journey through the Ukrainian-Jewish Encounter: From Antiquity to 1914 was originally a traveling exhibition shown in six venues in four Canadian cities (Toronto, Winnipeg, Edmonton and Montreal) between May and September 2015.  Its 36 panels examined the history and interactions of these two peoples living side by side on Ukrainian lands. The panels featured texts, graphics, photographs, paintings, and maps, as well as short videos and recorded music.
In 2018, Alti Rodal, the Co-director of the Ukrainian-Jewish Encounter expanded on the exhibition's narrative to explore the multi-dimensional relationships between Ukrainians and Jews inhabiting the lands of today's Ukraine. In the Introduction, Rodal tells readers, "Our aim is to present an integrated narrative that looks at the experience of these two peoples together, in all its complexity – through periods of crisis and episodic violence, as well as long stretches of normal co-existence and multifaceted cross-cultural fertilization/cultural interaction." (p. 7) The resulting book, A Journey through the Ukrainian-Jewish Encounter: From Antiquity to 1914, was published in English and Ukrainian.  It was awarded first prize for museum exhibit catalogues at the 5th Triennial All-Ukrainian Museum Festival in Dnipro, Ukraine in September 2018.
The book is divided into two sections – "Antiquity to the Partitions of Poland" and "Two Parallel Eras – the 'Long Nineteenth Century' (1772-1914)."  The first section examines the interactions of the two peoples beginning in antiquity, moving to the Polish-Lithuanian Commonwealth period, and concluding with an examination of Hasidism and Hebrew/Yiddish publishing on Ukrainian lands. Using straightforward text and relevant graphics, issues discussed include: Jewish settlement in Ukrainian lands, Ukrainian serfdom, Jewish co-operation with Polish magnates, Khmelnytsky's uprising and the consequences for both Jews and Ukrainians, the Uman massacre, the rise of the Uniate church, and the rise of Hasidism.
The second section of this book focuses on the experience of Ukrainians and Jews in the Russian empire, as well as the Austro-Hungarian regime up 1914. It deals with difficult topics such as the pogroms in the Russian empire; however, it also highlights trends in Ukrainian-Jewish political and civic co-operation.  There is a focus on the cultural renaissance experienced by both Ukrainians and Jews during this period. This section concludes by examining emigration to North America.
Although this volume may be compact in size at only 169 pages, it is full of relevant information, insightful historical analysis, detailed maps and graphic elements, as well as historically significant paintings and photographs. Readers of all ages will learn a great deal about Ukrainian and Jewish history, culture, religion, economics, and demographics in the land that is contemporary Ukraine. Young readers would particularly enjoy this book because of its simple yet interesting text along with wonderful graphic elements.  Each section is focused on the overall aim of the book, "to build mutual comprehension and solidarity between the Ukrainian and Jewish peoples worldwide." (p. 168)
Alti Rodal is one of the original founders of the Ukrainian-Jewish Encounter and Chair of its Academic Council. She is a historian, writer, former professor of Jewish history, and official advisor to the Government of Canada. Born in Chernivtsi, Ukraine, she completed her education at McGill, Oxford, and Hebrew universities in the fields of history and literature. Her research and writing has focused on aspects of identity, Jewish history and culture, and inter-communal relations.
A Journey through the Ukrainian-Jewish Encounter: From Antiquity to 1914 is available in English and Ukrainian. PDFs and print versions at the Ukrainian-Jewish Encounter website (here).
–Written and narrated by Myra Junyk.
---
Ukrainian Jewish Heritage is brought to you by The Ukrainian Jewish Encounter based in Toronto, Ontario. To find out more visit their website (here) and follow them on Facebook and Twitter.


---
---
Tune in to the Vancouver edition of Nash Holos Saturdays at 6pm PST on CHMB Vancouver AM1320 or streaming online. As well, the Nanaimo edition airs on Wednesdays from 11am-1pm on air at 101.7FM or online at CHLY Radio Malaspina. As well the International edition airs in over 20 countries on AM, FM, shortwave and satellite radio via PCJ Radio International.
---
---