---

---
What is summer without reading? I can imagine no greater pleasure than sitting down with a good book—or two—on a lazy summer afternoon at the beach or by the pool, on a shady deck, or sprawled out on a lush green lawn.
Here on Nash Holos Ukrainian Roots Radio, we have been fortunate to learn of and review many excellent books on our series Ukrainian Jewish Heritage. The books cover a wide range of topics involving Jews, Ukrainians, and their interactions over the years.
These interactions have not always been amicable, and it is a testament to the authors for broaching controversial topics and examining them with sensitivity, empathy, and a sense of fairness.
These books cover a myriad of topics over a broad time frame. Most are available at public libraries, from booksellers, or both. So I've compiled a two-part list of 14 books for your summer reading pleasure. Here is Part 1.
---
Stories of Khmelnytsky
Stories of Khmelnytsky features provocative essays by distinguished scholars from throughout North America, Europe, and Israel. It takes an honest look at one of the most contentious historical figures plaguing Ukrainian Jewish dialogue.
This book carefully addresses, without attempting to resolve, the fundamental questions Khmelnytsky's image provokes.
Whether viewed as a hero or a villain this 17th century historical figure bolstered national solidarity among Ukrainians and other nations. Surprisingly he actually inspired some early Jewish radical Zionists and served as a model for Jewish pioneers building a new homeland in early 20th century Palestine.
One essay notes that this volume on Khmelnytsky drives home the fact that history itself is made up not so much of facts as of stories.
Listen here to the review.
---
Cultural Dimensions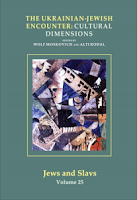 Cultural Dimensions is another collection of essays. These explore how cultural interaction between Jews and Ukrainians unfolded over centuries through diverse and daily encounters, and how that interaction had a profound impact on both communities.
The essays in this collection open doors for new research that can help create a joint narrative for Jews and Ukrainians.
This collection of essays was co-edited by Wolf Moskovich, Professor
Emeritus, Hebrew University of Jerusalem; and Alti Rodal, Co-Director of
the Ukrainian Jewish Encounter, who also wrote the introduction to the
volume.
The richly illustrated book appears as volume 25 within the series Jews and Slavs published by the Hebrew University of Jerusalem since 1993. The book was published in 2016 and can be acquired by contacting Wolf Moskovich at wmoskovich@gmail.com.
Listen here to the review.
---
A Prayer for the Government
A Prayer for the Government: Ukrainians and Jews in Revolutionary Times, 1917-1920  explores an ill fated attempt at rapprochement between Ukrainians and Jews a century ago.
The author, Dr. Henry Abramson, calls it a "bright chapter" in the long history of the Jewish people. One in which Jews were emancipated into a free state, with privileges as a minority that exceeded even those in Western Europe and America.
However, by the spring of 1919 Ukraine was submerged by a wave of violence that became one of the darkest chapters of Jewish history, only overshadowed later by the Holocaust.
Abramson's meticulous account traces how the attempt by both Jews and Ukrainians to achieve a working political relationship was betrayed by less enlightened attitudes among the general population as well as by the political and social instability of the time.
Click here to go to the review.
---
Jews and Ukrainians: A Millennium of Co-Existence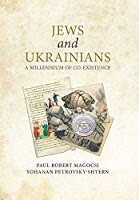 In their book
Jews and Ukrainians: A Millennium of Co-Existence,
two distinguished academics, Paul Robert Magocsi and Yohanan Petrovsky-Shtern produced a parallel narrative of two peoples in 12 thematic chapters in the book outline the rich history of Jews and Ukrainians.
They cover geography, history, economic life, traditional culture, religion and language as well as literature, the arts, music, the Diaspora, and contemporary Ukraine.
With over 300 full-color illustrations, over two dozen maps, plus several text inserts, the book is extremely reader friendly.
Jews and Ukrainians: A Millennium of Co-Existence won a Special Recognition Award at the Lviv Book Forum in 2016.
Click here to go to the review.
---
The Great Departure
The Great Departure: Mass Migration From Eastern Europe and the Making of the Free World explores the devastating human toll of migration.
Author Tara Zahra examines one of the largest migrations of human history… 50 million Europeans who moved to the Americas between 1846 and 1910. These included Ukrainians, Poles and Jews of Galicia.
The western Ukrainian city of Brody, then on the frontier of the Russian and Austrian empires, became the gateway to the New World. Albeit not without all manner of exploitation enroute, not least of all human trafficking.
The policies that shaped this great migration set a template for future tragic, events in the 20th century. The resulting bureaucratic "paper walls" doomed Europe's Jewish population from escaping the Holocaust, the closing of the Iron Curtain, and ethnic cleansing.
The author places the current refugee crisis within the longer history of migration.
Click here to go to the review.
---
Sheptytsky from A to Zed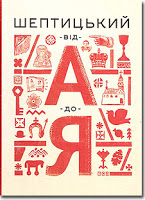 A remarkable children's book—and a book that will delight not only children—created a stir at the 2015 Lviv Book Forum.
Sheptytsky from A to Zed offers a delightful yet thoughtful account of a renowned figure's life through the letters of the alphabet.
Andriy Sheptytsky, became Metropolitan Archbishop of Lviv and head of the Ukrainian Greek Catholic Church in the early to mid 20th century. He risked his life and those of his clergy hiding Jews in his palace, and throughout Ukrainian Catholic monasteries in Galicia.
Sheptytsky's achievements as a scholar, philanthropist, patron of the arts, and leading public figure in Ukrainian society are also covered in this charming and engaging book.
Click here to go to the review.
---
Yiddish-Ukrainian dictionary
On the theme- sort of- of alphabet and languages, is an astonishing discovery in the world of dictionaries.
Dr. Dmytro Tyshchenko is the son of a Jewish mother and a Ukrainian father from Donbas, and the creator of a massive and highly acclaimed Yiddish-Ukrainian dictionary.
After discovering his Yiddish roots In 1988, Tyshchenko devoted his life to learning the language of his ancestors, and making it accessible to others. Especially a younger generation that has embraced the study of Yiddish.
Now living in Frankfurt, Tyshchenko is developing an online version of his dictionary.
Click here to go to the review.
---
The books on this list, both parts, were reviewed on Nash Holos by Peter Bejger. Part 2 will air next week. I hope you will consider adding them to your summer reading list. You can find a transcript of this list on the Nash Holos blog. If you'd like to read or listen to the original, full reviews, you can find them at our website www.nashholos.com as well as at Ukrainian Jewish Encounter dot org.
So until next time, Shalom! And happy summer reading.
– 30 –
---
---
Ukrainian Jewish Heritage is brought to you by The Ukrainian Jewish Encounter based in Toronto, Ontario. To find out more visit their website (here) and follow them on Facebook and Twitter.


---
---
Tune in to the Vancouver edition of Nash Holos Saturdays at 6pm PST on CHMB Vancouver AM1320 or streaming online. As well, the Nanaimo edition airs on Wednesdays from 11am-1pm on air at 101.7FM or online at CHLY Radio Malaspina. As well the International edition airs in over 20 countries on AM, FM, shortwave and satellite radio via PCJ Radio International. (To get the podcast links, click on the Listen tab in the menu bar.) In between broadcasts, please follow @NashHolos on Twitter and Like the Nash Holos Facebook page. I love to hear from you so please send me your suggestions, dedications and requests here. Your comments are always welcome!
---
---