---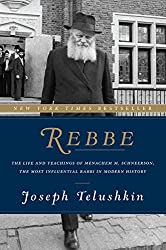 In this edition of Ukrainian-Jewish Heritage, we will be discussing Joseph Telushkin's biography, Rebbe – The Life and Teachings of Menachem M. Schneerson, The Most Influential Rabbi in Modern History.
Rebbe examines the life and teachings of one of the most prominent and respected Jewish scholars of our time. Born in 1902 in Nikolayev in southern Ukraine, Schneerson came to lead the powerful Jewish organization named Chabad. He spent most of his life in a small synagogue in Crown Heights Brooklyn, but he was very influential in both the United States and Israel. He advised prominent world leaders and ordinary citizens alike, and encouraged them to lead more meaningful and selfless lives. He became, "A Rebbe for the New World." (p. 3)
His primary aim as spiritual leader for over forty years was to work tirelessly to become "a global ambassador for Judaism." (p. 5) Just a few months after his death in 1994, he was posthumously awarded the Congressional Gold Medal, the highest American award granted to a civilian. His humility, hard work, and innovative leadership had an extraordinary impact not only on Jews, but also on non-Jews. He preached unconditional love for all Jews and widely expanded the Lubavitch movement by establishing Chabad houses throughout the United States and around the world. "Today, the sending out of Chabad emissaries throughout the world is acknowledged as the Rebbe's most revolutionary and perhaps enduring achievement." (p. 75)
In 1951, Schneerson became the Seventh Rebbe of Chabad after the death of his father-in-law, Frierdiker Rebbe. He did not seek the position, even though he had widespread support in the organization because of his unique skills as a pastoral leader and community organizer. His wife, Chaya Mushka, supported him throughout his career. One of the great regrets of their life together was that the couple remained childless. As a scholar, the Rebbe knew few peers. Every day, he read newspapers in four languages. He studied the sacred scriptures during every spare moment, even though he spent much of his time counselling his followers, and others who sought out his wisdom. Some of his followers believed that he was the Messiah.
His impact was truly remarkable. Throughout his life, he lived his belief that, "The three loves – love of God, love of Torah, and love of one's fellow – are one." (p. 35) He influenced many people during his life. In 1964, he met with Robert Kennedy. In 1977, he met with the newly elected prime minister of Israel, Menachem Begin who sought his advice and stated, "His blessings are very important to me." (p. 52). His influence spanned the globe in campaigns for: the lighting of menorahs by American presidents, prayer in public schools, and Jewish emigration from the Soviet Union. He worked diligently to foster leadership among his followers and established many charitable foundations including the Chabad's Children of Chernobyl organization to provide relief to victims of the Chernobyl explosion.
Telushkin skillfully weaves the Rebbe's teachings into his biography. He has a personal connection to the events of this book because his father served as Schneerson's accountant for many years. The book is full of anecdotes from Rebbe's correspondence, writings, and descriptions of his personal audiences. Rebbe, a proponent of "quiet diplomacy," cautioned that, "If words are so powerful, then we must be very careful how we use them." (p. 109)
Readers who enjoy biographies of important historical figures will be fascinated by this portrait of Schneerson. The Rebbe becomes a very realistic character in this book. His family relationships were difficult because he took his nephew to court for stealing from his library. Teluschkin is a skilled observer of Jewish culture, religion, and politics. Rebbe is a remarkable figure with his outreach to women, the Muslim community, as well as Reform and Conservative Jewish groups. However, this is not a book for the faint of heart. It is a lengthy read at 628 pages. The writer has also included: a listing of the major events in the life of the Rebbe, a useful glossary, as well as comprehensive footnotes.
Rabbi Joseph Telushkin is a spiritual leader and scholar. He has published several nonfiction books including: The Book of Jewish Values, The Golden Land: The Story of Jewish Immigration to America, and Jewish Literacy. He is a senior associate of the National Jewish Center for Learning and Leadership, serves on the board of the Jewish Book Council, and is the rabbi of the Los Angeles-based Synagogue for the Performing Arts. He lives with his family in New York City.
Rebbe is available at Chapters/Indigo and Amazon.
I'm Myra Junyk in Toronto, for Nash Holos Ukrainian Roots Radio. Until next time, Shalom!
---
Ukrainian Jewish Heritage is brought to you by The Ukrainian Jewish Encounter based in Toronto, Ontario. To find out more visit their website (here) and follow them on Facebook and Twitter.


---
---
Please support our work by purchasing this book using this link. There is no additional charge to you but it sends a few cents our way. Дякую! Thank you!
---
---
Tune in to the Vancouver edition of Nash Holos Saturdays at 6pm PST on CHMB Vancouver AM1320 or streaming online. As well, the Nanaimo edition airs on Wednesdays from 11am-1pm on air at 101.7FM or online at CHLY Radio Malaspina. As well the International edition airs in over 20 countries on AM, FM, shortwave and satellite radio via PCJ Radio International.
---