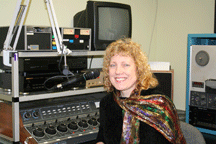 Under This Unbroken Sky by Shandi Mitchell is a novel set in Willow Creek Alberta in 1938.
The story revolves around two Ukrainian immigrant families and the hardships they faced in settling and farming land on the Canadian prairies.
After being imprisoned for over two years for stealing grain, Teodor Mikolayenko arrives home. Unable to own property because of his sentence, he makes an arrangement with his sister Anna to buy the land in her name with the intention of repaying her through revenue generated from farming the land.
Throughout the novel, tensions rise between the two families as Anna's abusive and controlling husband forces her to revoke the land agreement she has with her brother Teodor. This takes a heavy emotional toll on the characters of both Anna and Teodor, ending in a startling climax.
This novel was so well written that I found myself living the experiences of the characters and developing a stronger appreciation for my own Ukrainian heritage. In particular, the character of Teodor Mykolayenko strongly reminded me of my grandfather, with his stoicism and tireless work ethic. I have fond childhood memories of summers spent on the farm helping Baba with huge garden harvests with Gido off in the distance harvesting grain with a combine.
This novel recalled those memories, but with a renewed respect for the sacrifices my great-grandparents made in coming to Canada to make a better life for their children and subsequent generations.
Under This Unbroken Sky was Shandi Mitchell's debut novel, and it sparked a curiosity in her own Ukrainian roots. Although raised on the Canadian prairies and of Ukrainian descent herself, she grew up knowing very little about her ancestral heritage. In writing and research of this novel, she found her own family history influencing the storyline. More information about the author is available at her website www.shandimitchell.com.
This is a compelling novel, brutal in its honest portrayal of immigrant life yet inspiring in its depiction of the resiliency of the human spirit.
Simultaneously published in August 2009by Penguin Canada, Weidenfeld & Nicolson (UK) and Harper Collins (US), Under This Unbroken Sky has won several awards, including the Kobzar Literary Award (2012) and the Commonwealth Writer's Prize (2010).
Under This Unbroken Sky is available in hardcover and paperback at Amazon and Chapters Indigo, and in digital formal on Kobo.
– Review by Janine Daniluck
| | |
| --- | --- |
| Paperback – Amazon.ca | Hardcover – Amazon.ca |
| | |