Pawlina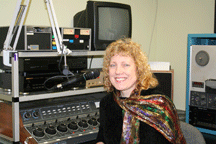 Paulette (Pawlina) Demchuk MacQuarrie has hosted and produced Nash Holos on AM1320 CHMB Vancouver since 2000. From 1990-96 she co-hosted the show on another local radio station. In 2002 she began podcasting the program as an additional service to local listeners unable to receive the radio signal, and also to broaden the audience base. To that end, the program went into international syndication from 2010-13, then live in Nanaimo in 2012 on 101.7fm CHLY..
Pawlina was born in Winnipeg and grew up in various prairie communities, including several happy childhood years on the homestead of her paternal grandparents near Arran, Saskatchewan. After graduating from Sacred Heart Academy in Yorkton, she moved to Winnipeg to work in the travel industry.
While attending the University of Manitoba part-time in the mid-1980s, she became a "born-again Ukrainian" and began to focus her studies on Ukrainian language, history and culture, as well as English composition. In 1987 she began writing freelance articles for local community papers, The Ukrainian Weekly (New Jersey), and other publications.
After moving to the west coast in 1988, she continued to work in the airline industry until 1995, when she left to write full time for corporate clients, professional organizations and a small local publishing company. In 2006 she published her first work of fiction, a short story, in the anthology Kobzar's Children: A Century of Untold Stories.
During this time she was active in Vancouver's Ukrainian community, from 1989-96, serving on the board of the Ukrainian Canadian Congress, BC Provincial Council, and the Ukrainian Community Society of Ivan Franko in Richmond. She wrote and edited two community newsletters from 1991-99, and in 1990 wrote the Report on Multiculturalism for the Government of British Columbia on behalf of the Ukrainian Canadian Congress British Columbia Provincial Council. From 1995-96 she was a member of the Advisory Council to the Ministry of Multiculturalism for the Province of British Columbia.
She continues to write and tries to enjoy as much time as possible outdoors.