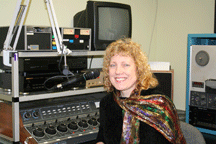 Posted by Pawlina on Friday, 28 December 2012 in Announcements
It's been a very good year for Nash Holos Ukrainian Roots Radio. Lots of exciting things happened in 2012!
We went live on Nanaimo (doubling our weekly airtime!), launched our new website, and connected with some outstanding groups and individuals … not least of all a Canadian charity (HART) doing good work in Ukraine, as well as performing artists, authors, and Hollywood producers raising awareness of Ukrainian issues, and many "unsung heroes" keeping the issues and the spirit alive in Ukrainian communities across Canada and the US.
Some of our plans have still to materialize … Sylvia's long-awaited cookbook (and others I'd like to publish), the Nash Holos newsletter, online boutique and continued updates to the website (which is turning out to be quite the "work in progress"!) and some programming enhancements. Hopefully in the not-too-distant future in 2013.